Custom Rifle Builds





A factory Remington 700P that wouldn't shoot. True-Up action, Marine-Tex need action/Stock.
Tunes Timney trigger install, Custom Baggett Ordnance Bottom Metal install, filling in stock where old detachable
box magazine release was located and custom paint stock. Drop on a Leopold Mark 4 LRT Riflescope to a Badger
Ordnance 20 MOA rail and 30mm Baggett rings and now she's a shooter.












Jim Thornton. Took two Pronghorn with a Accurized/Semi-Custom Browning X-BOLT chambered in 7mm Rem Mag. Both antelope were taken at just under 300 yards After accuracy package and upgrades, this rifle with custom handloads shot well under 1/2 MOA. Witness the target, shot at 200 yards. Point of impact is three shot group and those are 1" squares. Great hunt Jim. Thanks for the trust brother! Now, next year, he'll take those animals at 800 yards After some more time behind the rifle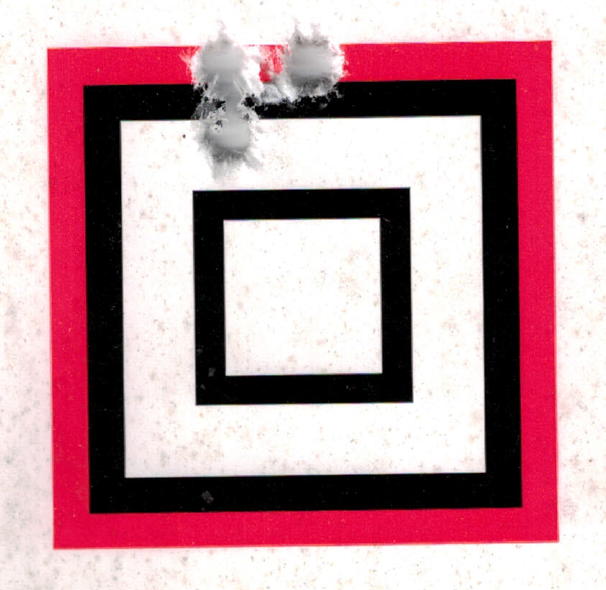 North Country Outfitters custom built Remington 700 in 7mm Magnum. Terry was adamant we use his existing walnut BDL stock from his factory rifle. He had grown attached to it after many successful hunts, but the barrel was shot out if it. So, we did a "Complete makeover."
Obermeyer Custom 5R barrel. Action barrel and bottom metal bedded in original stock. Trigger tuned to 2.8 lbs. and action completely
Blueprinted, we mounted a Leupold VX3 CDS optic on it and Cerakoted the barrel, action, bottom metal and mounting hardware.
We have included a three shot target with Terry 's rifle and he couldn't be happier. Enjoy! We'll post pics of his harvest out west
when we receive them. We left him with no excuses for his future hunts.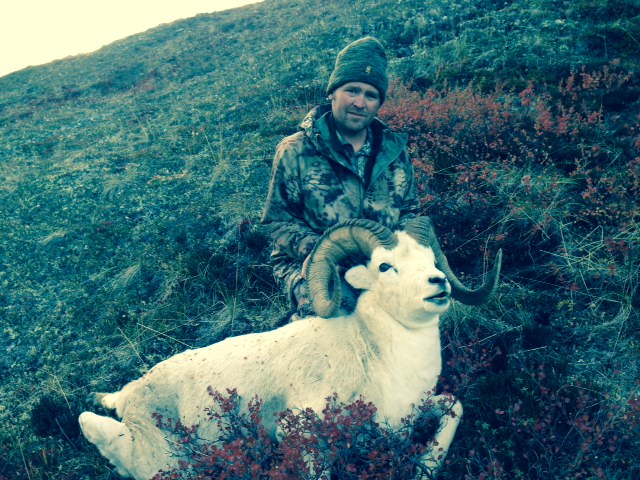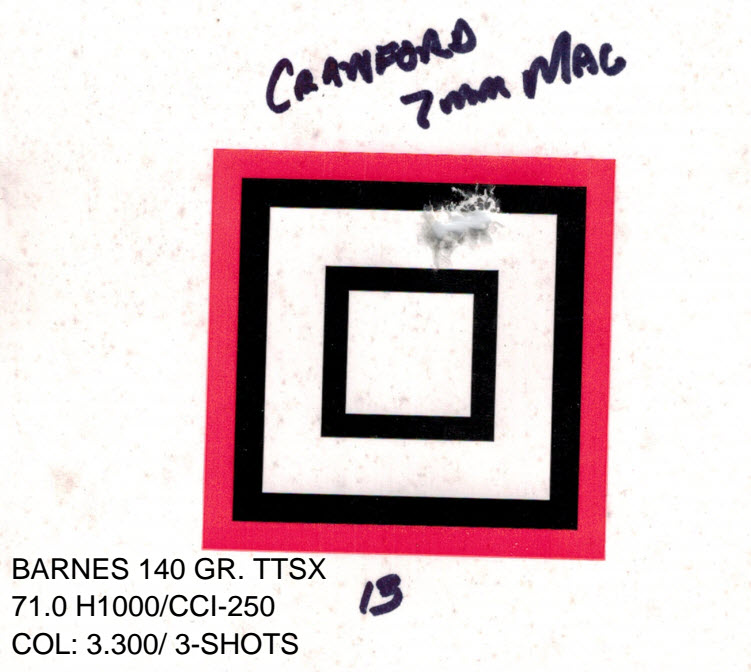 Jon Crawford-West Branch. This Ram (14.75" bases and 39". No brooming and over full curl on both sides. 8.5 yr old ram)
was killed with a semi-customized Ruger M77 All-Weather rifle with custom 7mm Remington Magnum handloads,
built by NCO of West Branch. Handloads held 1/2"MOA when tested and this ram didn't move when he was hit perfectly with the
140 Barnes TTSX Bullets. " The proof is in the puddins," as they say. Look at the target, look at the field results!
They speak for themselves. We do the easy part of the work for you. If you don't think you guys do the hard part,
take a look at the side of the mountain that ram is lying on. Trust me, out part is the easy part!
Thanks Jon! Nice animal!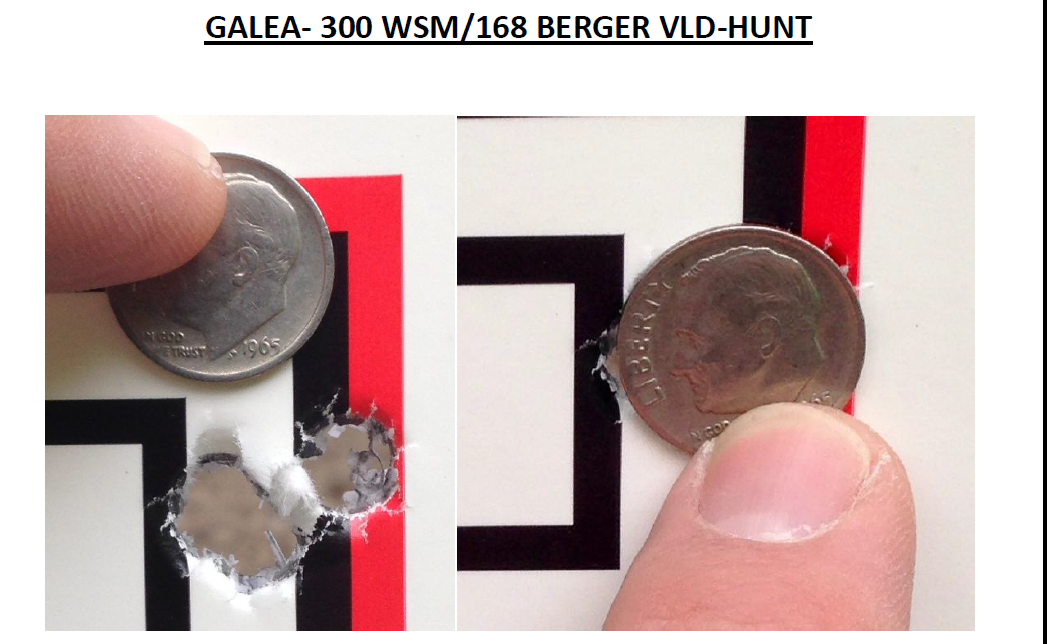 Chris Galea-West Branch, MI:
Chris was heading out west to try to take a trophy Mule Deer. Because of the time constraints, Chris opted to go with a factory build and have us true-up/blueprint the action and develop a handload for the rifle. He opted for the Savage Long Range Hunter, chambered in 300 WSM. We blueprinted the action, accessorized the rifle with a Nightforce rifle scope, which we had custom Turrets cut for. We had two (2) elevation turrets cut for elevation/yardage adjustments. One elevation knob was cut for 8000 ft. elevation and the other for local elevations of 1000 ft. The windage knob was cut for 4000 foot, as the variations for wind were not great enough to justify cutting two (2) windage turrets. The handloads we built for him were 168 gr. Berger VLD Hunting Bullets that shot into just under 3/4" at 200 yards . Chris was amazed at being able to simply dial in yardage with his elevation turret and make consistent hits on hardball size targets out to 600 yards, as he practiced locally. He changed his turret and headed west. When he arrived at his camp, the outfitter had him shoot his rifle to test his skill level and point of impact. With the rifle perfectly zeroed back in Michigan and just having changed his turret to the 8,000 ft. elevation for Utah, he was a bit nervous and unsure. That is until he put hits on vital sized targets out to 750 yards, stunning his guide and other hunters in camp with the absolute precision his rifle and optic commanded. A day later, he killed this beautiful Mule deer at 558 yards with a 6 mph wind. This is what good equipment, some precision gunsmithing and handloading and a little bit of practice can do for you. Thanks Chris! Nice buck!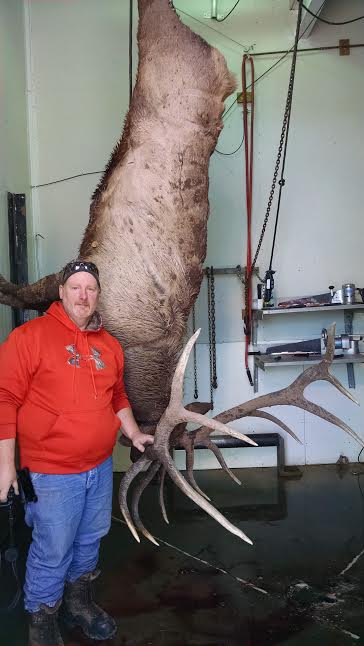 DON KLINGLER 6 X 6 BULL ELK.
IN MEEKER CO IN THE WHITE RIVER NATIONAL FOREST
SHOT AT 300 YARDS WITH 300 REMINGTON ULTRA MAG WITH CUSTOM WORK
PERFORMED BY NORTH COUNTRY OUTFITTERS


JOSH HENDERSON AR-15 BUILD





ROCK RIVER ARMS LOWER RECEIVER AND UPPER RECEIVER
WHITE OAK ARMAMENT 20" VARMINT BARREL
JP ENTERPRISES EXTENDED MODULAR HANDGUARD
TIMNEY TRIGGER
MAGPUL PRS-II STOCK
MAGPUL PISTOL GRIP
FAIL ZERO NICKEL BORON BOLT CARRIER GROUP
BCM-MOD 3 CHARGING HANDLE
CERAKOTE-MAGPUL DARK EARTH WITH CONTROLS AND BARREL CERAKOTED IN ARMORER BLACK


MATT DILLON-CUSTOM REMINGTON 700 BUILD

ACTION: REMINGTON 700 LEFT HAND ACTION
CALIBER: 260 REMINGTON
BARREL: OBERMEYER WEATHERBY SPORTER, FLUTED
STOCK: MANNERS COMPOSITE STOCKS UNIVERSAL THUMBHOLE
BADGER ORDNANCE BOTTOM METAL AND DETACHABLE MAGAZINE
CUSTOM TUNED FACTORY TRIGGER
BADGER ORDNANCE OVERSIZE BOLT HANDLE
WARNE TACTICAL BASE AND WARNE RINGS
IOR VALDADA OPTICS
CERAKOTE: BARREL AND BOTTOME METAL IN SNIPER GRAY, RINGS AND MAGAZINE IN ARMORER BLACK.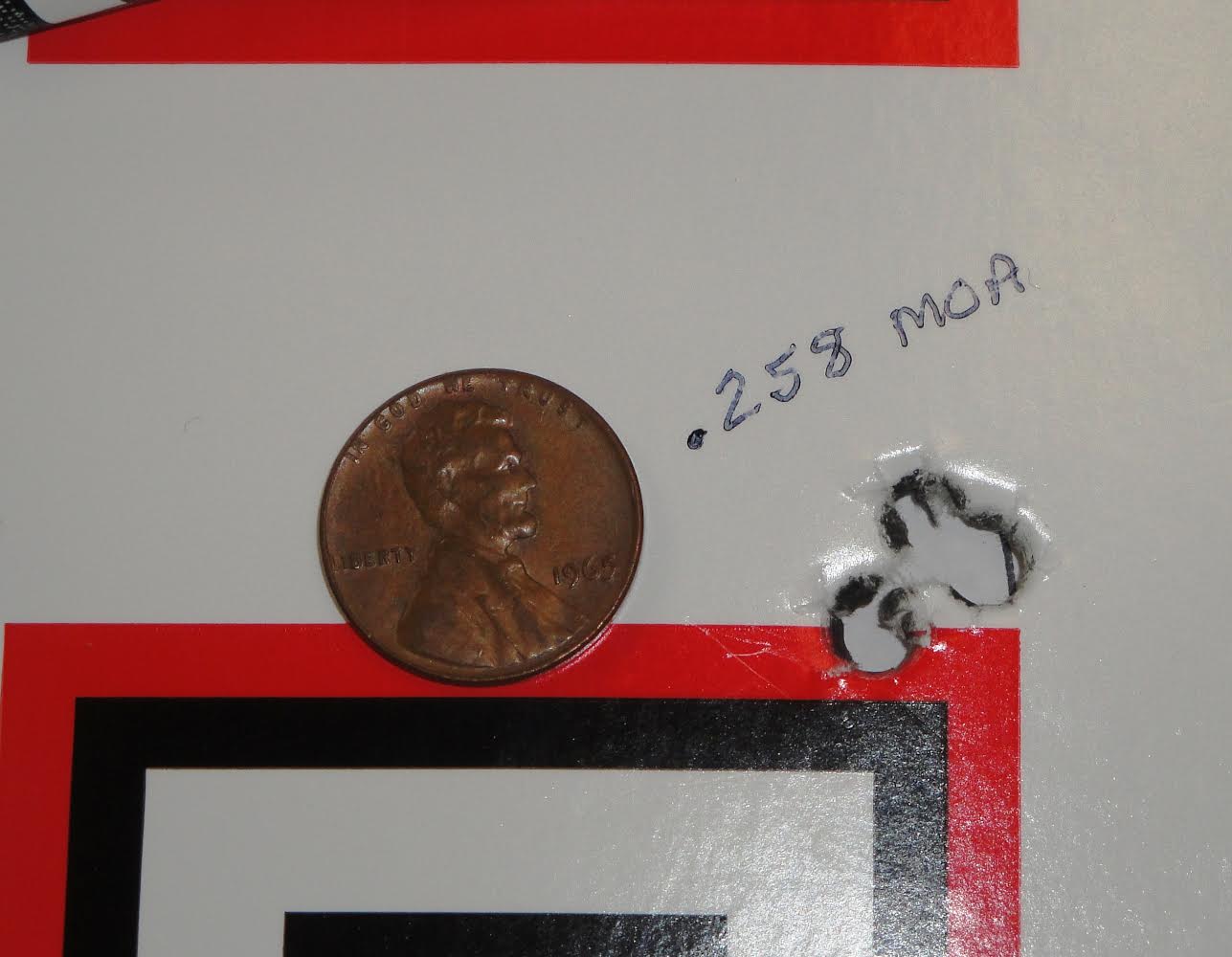 Tom Rigden's Build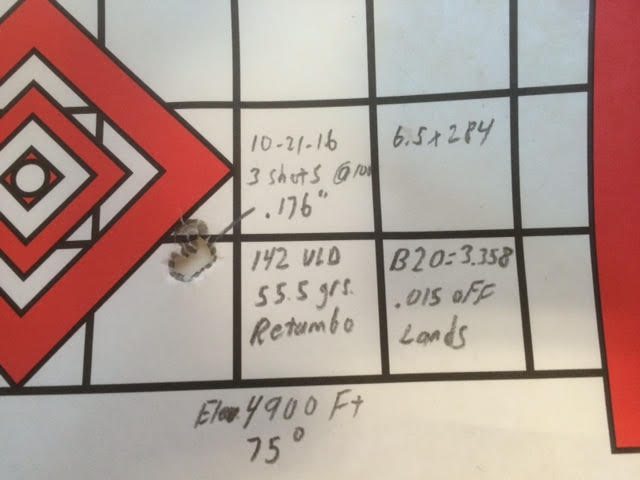 ACTION: REMINGTON 700 L/A
CALIBER: 6.5X284 NORMA MAGNUM
STOCK: MANNERS COMPOSITE
BARREL: BOOTS OBERMEYER FLUTED, S/S
TRIGGER: JEWELL HUNTER/VARMINT
SCOPE: HUSKEMAW OPTIC
MZ BRAKE: HOLLAND QUICK DISCHARGE
FINISH: CERAKOTE IN FLAT DARK EARTH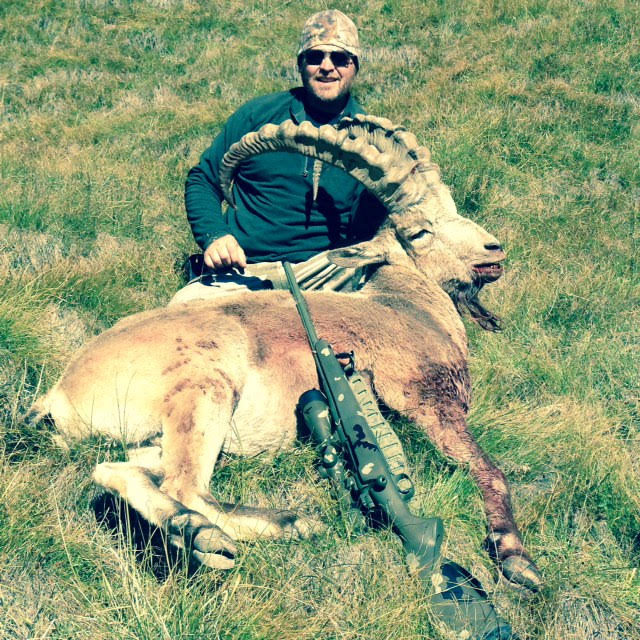 This Ibex sheep is believed to be an 8yr old & was taken by Jon Crawford at 550 yards at an altitude of 14,800 feet in Kyrgyzstan, near the far eastern corner, on boarder with China. He was using a North Country Outfitters complete custom rifle. Built off a Winchester Model 70 (Pre-64) action and customized for a high altitude hunt for Jon. Chambered in 264 Winchester Magnum and loaded with customized hand loaded ammunition by NCO as well. The rifle shot sub 1/2" MOA right from the start and continues to get better as Jon breaks it in.

Jon had very little time to practice with his new rifle, prior to leaving. In fact, the sheep was taken with only the 14th bullet he had fired from the custom rifle. All the homework and ballistics were handed to him with the rig and he plugged them into his Zeiss Ballistic reticle system. A couple weeks after taking delivery of the rifle, he made this spectacular shot, dropping the animal in its tracks

| | |
| --- | --- |
| Travis Ockerman | Mike Rau |



Travis Ockerman & Mike Rau shot these mule deer

at Salt River Range Outfitters Smoot in Wyoming.
Travis shot his Mule deer at 961 yards and Mike was at 1150 yards. They both used Mike's rifle which is a custom built Remington 700 Sendero chambered in 300 Remington Ultra Mag.
Travis's scored 150 and Mike's is 170.
Although the rifle is a sub 1/4" MOA gun, that's still some pretty damn good shooting boys! Nice job!





GARRETT HARTLEY- CUSTOM 338 LAPUA BUILD
*Action: Surgeon XL 1581
*Barrel: Bartlein #14 Profile 5R .338 fluted BBL
*Bottom Metal/Magazine: Surgeon
*Stock: McMillan Adjustable A-5 in McMillan Camo
*Trigger: Jewell Adjustable, set to 1.5 lbs.
*Optics: Nighforce G7 5.5-20 x 50 with G7 Reticle
*Rings: Badger Ordnance 30mm
*Finish: Cerakote- Barreled Action and bottom metal finished in Magpul O.D. Green with Bolt body, bolt shroud, bolt handle, magazines and mag release in Armorer Black.
*Bipod: Harris BRM 9-13